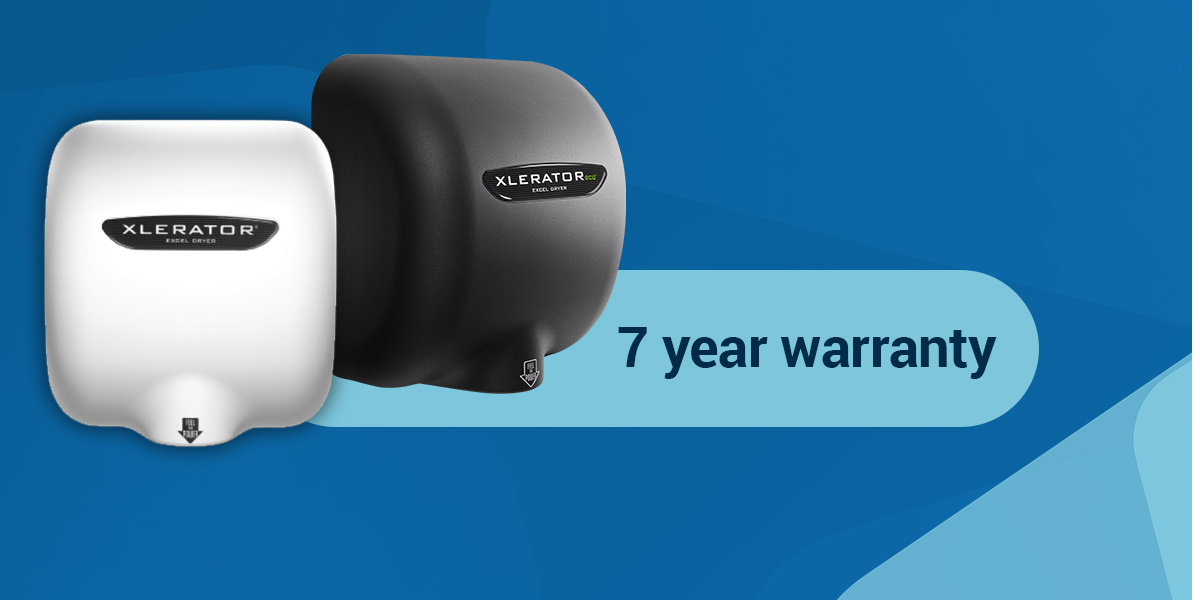 Excel Dryer have set a new industry standard by offering an improved product with 50% longer life and an industry leading 7 year warranty, without increasing the list price.
All XLERATOR® and XLERATOReco® hand dryers purchased from January 1st 2020 are warrantied for seven (7) years, this covers all parts, and most importantly, the motor.  Previously purchased dryers are 5 year warrantied.
William Gagnon, vice president of marketing and sales at Excel Dryer INC recommends buyers thoroughly review the warranty of any dryer they are considering purchasing.
He cautions, "Though some manufacturers offer longer warranties, a review of the fine print shows that motors are typically only covered for three years and sensors are only covered for one. Both of these parts are crucial to hand dryer functionality and are covered for a full seven years by Excel Dryer."
With XLERATOR's extended product life and unrivalled warranty, the best just got better. "We pride ourselves on manufacturing a dependable product our customers can rely on," expressed Gagnon. "We are always looking for ways to improve our products and deliver more value to our customers and with our latest product improvement, we've done just that."
About Excel Dryer (UK) Ltd.
For over 15 years, Excel Dryer (UK)  have been the sole distributor for XLERATOR®,  XLERATOReco®  and ThinAir® hand dryers throughout the UK. Excel Dryer (UK) has offices in New Malden, Surrey, and Bradford, West Yorkshire. Learn more about Excel Dryer (UK) at www.excel-hand-dryers.co.uk.