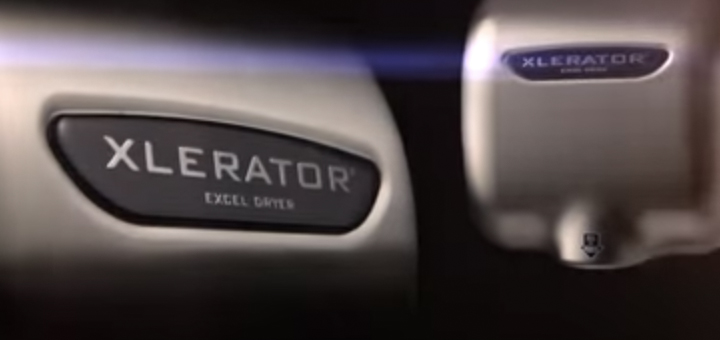 Our 2023 guide to the 6 essential features of the best commercial and industrial hand dryers in the UK today.
When looking at the latest commercial or industrial hand dryers, you should notice the overall benefits such as being fast, accessible, environmentally friendly, money saving and hassle-free maintenance! All of these features together make for a great commercial hand dryer.
Speed
Allowing bathroom users a quick drying experience is essential in today's commercial washrooms. Just because you purchase a high-power hand dryer does not mean that it will dry hands better or faster. We have seen lots of high power hand dryers which are wasteful of energy, through to some which are at worst dangerous to the consumer. We worked with a UL Environment to test our dryers in a laboratory setting. XLERATOR Hand Dryer recorded an 8 second* dry time and 3.7 Wh* of energy per use while the XLERATOReco® Hand Dryer recorded 10 seconds*, 1.7 Wh*. *Dry time and energy use testing performed by SGS International on standard XLERATOR/XLERATOReco Hand Dryers with 0.8 nozzles to 0.25g or less of residual moisture, pursuant to the UL Environment Global Product Category Rules (PCR) for Hand Dryers.
You will not find a faster dryer on the market today.
Cost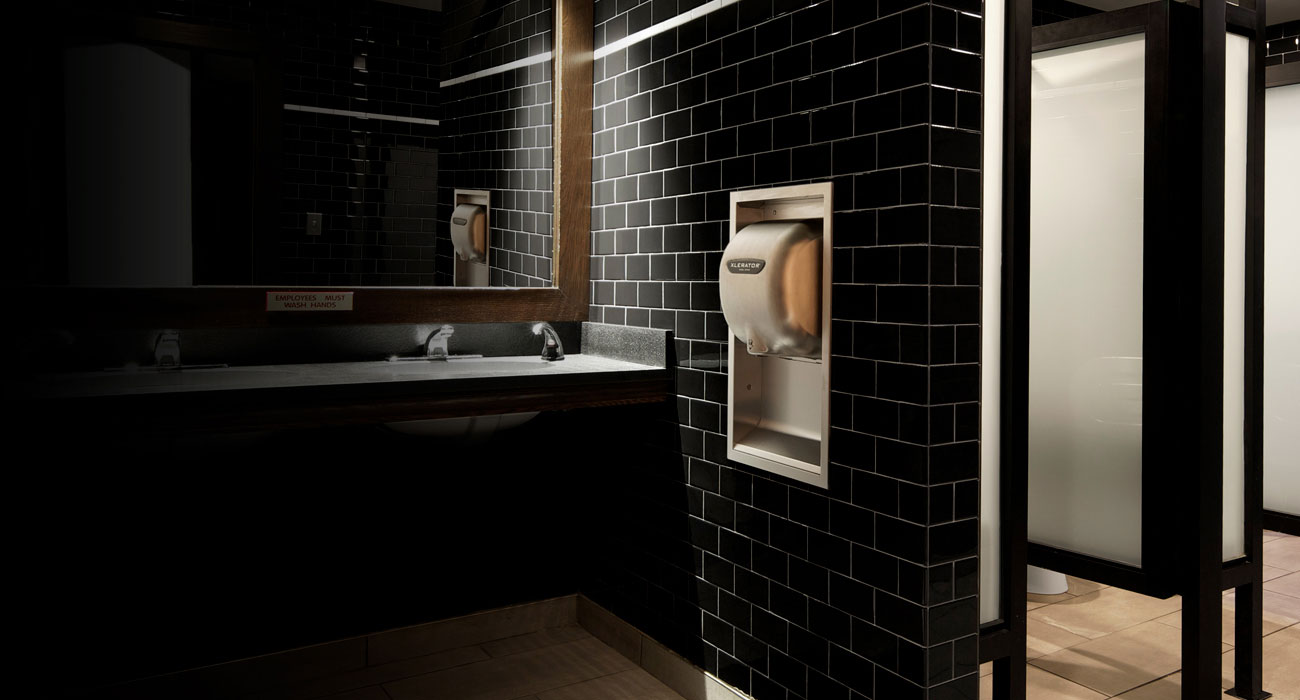 Cost is not just about the purchase price of the hand dryer, but the cost of the hand dryer over time. Paper towels require storage, dispenser maintenance and waste removal. Over time these costs add up. Another factor is counterfeit goods. There are a lot of fake hand dryers on the market. These hand dryers are made of substandard components and whilst cheap at the onset will require early servicing and parts replacement whereas the XLERATOR® and XLERATOReco® dryers now have 50% longer life and a 7 year warranty.
Calculate your cost savings with Excel Dryer's savings calculator.
UK Accessibility & Disabled Bathrooms
Disabled bathrooms are specially designed to allow users unrestricted access to essential services. When choosing a suitable dryer, height, profile, speed and wattage should all be considered. The ADA or Americans with disabilities act of 1990, lays out in clear terms what is to be expected from a dryer in a disabled washroom. The UK does not have a document like the one created by our American cousins but our ADA compliant dryers exhibit all of the benefits for disabled users created in the USA.
Some of these benefits are as follows:
First came our recess kit for the XLERATOR which made it out first ADA compliant hand dryer. We then created our XChanger® Combo Kit for retrofitting paper towel dispensers to the XLERATOR Hand Dryer. This was designed to allow switching without any wall damage.
Next came the ThinAir® Hand Dryer, an EPD certified, high-efficiency hand dryer. ThinAir is a surface-mounted, ADA-compliant hand dryer that uses only 950 watts or less. In accordance with ADA guidelines for the visually impaired, ThinAir protrudes only 10cm from the wall. ThinAir, like all high-efficiency hand dryer models from Excel Dryer, now comes with new enhanced standard features, including adjustable sound, speed and heat controls, multi-voltage options and an externally visible service LED. In addition to the original ABS polymer cover, ThinAir is available in brushed stainless steel and features a washable pre-filter to extend the life of the unit.
ThinAir also features automatic sensors which allow "no touch" operation and is accessible for both left-handed and right-handed users, which will improve the experience of many users in disabled bathroom environments and improves hygiene. Finally, there are Antimicrobial Wall Guards designed to protect walls from water/bacteria and also a HEPA filtration system that removes 99.999% of viruses from the airstream. It is also perfect for use in smaller bathrooms where space is at a premium.
Power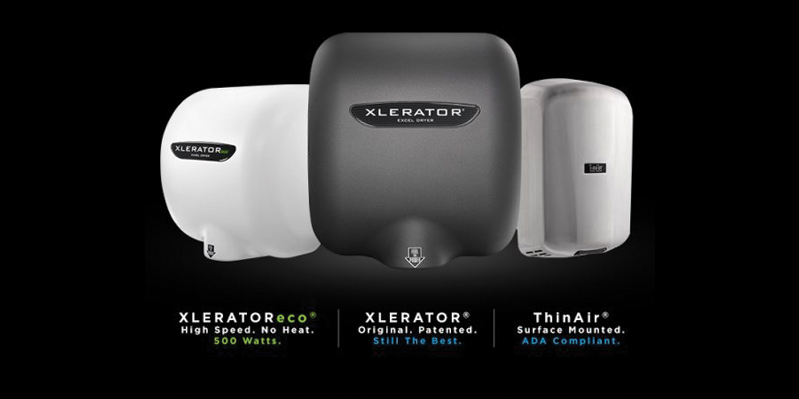 Hand dryer power can be defined as two things: the power of the airflow it emits to dry your hands and the power (electricity) it takes to run. XLERATOR® hand dryers dry hands in 7 seconds while the XLERATOReco® hand dryers dry hands in 9 seconds both using 500 watts. ThinAir® uses 375 watts and dries hands in 15 seconds. Our commercial and industrial hand dryers boast the best of both worlds; they dry hands in no time and require less power to operate than past hand dryers. We at Excel Dryer are confident that our dryers are amongst the fastest in the world.
Sustainable standards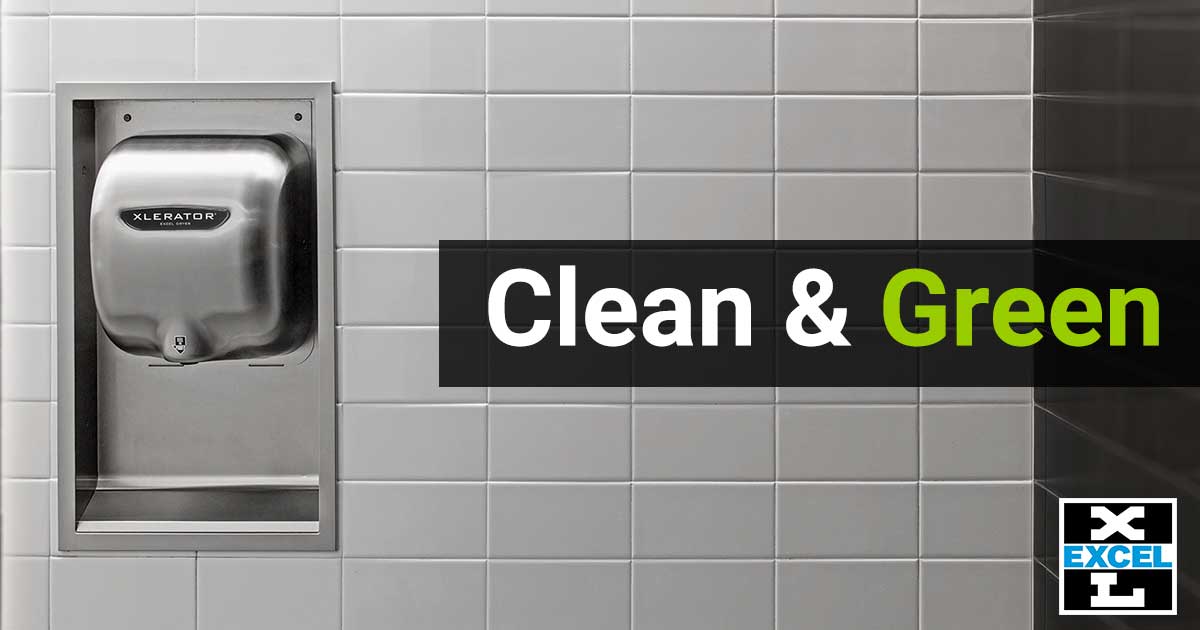 Excel Dryer is committed to manufacturing sustainable products. UL Environment a business dedicated to supporting companies to be sustainable, published the first-hand dryer Environmental Product Declaration EPD supporting the environmental claims we have made about the XLERATOR, XLERATOReco and ThinAir. Facilities can now reduce their carbon footprint by up to 75 percent while saving on paper towel costs. The environmental impact of paper extends far beyond trees and forests, the manufacture, distribution and disposal of even 100 percent recycled paper uses a lot of energy.
Maintenance
Easy electric hand dryer maintenance is essential in large installations. We pride ourselves on the quality of our products, in fact so much so that we offer a 7 year warranty on all new XLERATOR® and XLERATOReco® Hand Dryers. This covers all parts, and most importantly, the motor. As well as this, ease of repair is of major importance. We offer parts to allow you to repair dryers yourself when outside of warranty if necessary. To aid in this process, our hand dryers come with service LED lights, which indicate when a service is needed.
Summing Up
So, if you are in the market for the best commercial hand dryer, make sure to compare models. Look for the latest commercial hand dryers that have new features like speed control, maintenance indicators, multi-voltage options and, of course, cost savings. These features are what make a commercial hand dryer great.
Why Excel Dryers?
If your facility utilises high-pressure cleaning processes and automatic shutoff nozzles, sensor equipped faucets and low-flow toilets, you're doing all the right things and then some. But if you haven't yet switched to XLERATOR, you're missing what may be the simplest water conservation measure of all (not to mention the many other green perks our products inherently provide).
This year, discover the incomparable benefits of a drier hand drying solution and see why the towels in your beach bag are the only ones you need. We manufacture and supply only the finest industrial hand dryers in the UK which come with a 7 year warranty as standard. Feel free to contact us if you have any questions about our products and how they can help your business.